The Price's Home Building Photo Story (page#1)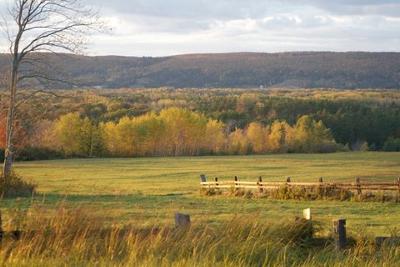 the site
We are planning on building a home at the bottom of a field overlooking a river, on 20 acres of family land.


Very exciting but we know we have a lot to do before we start to break ground. Right now we are migrating the property and meeting with our contractor.
Our goal is to build an energy efficient home with geothermal and passive solar heating principals.
As well, we are listing our current home next month. Fingers crossed it happens soon! Here are a few photo of our building site....
===============================
Update March 23 2011
Plans Are Progressing!.
We certainly are finding out just how much needs to be done before we can even break ground.
Seeing as how the building plot is relatively set back from the road, we are pursuing power installation early on. We have been given a quote and the next step is to call them and book a team to come and install the poles and wires.
Luckily, they have told us we won't be on a waiting list, installation won't take long at all.
We are also doing up our building permits and once we get our final cost of materials list we can go ahead and submit the permits.
In a few days we will be getting the soil tested by the septic people and if that passes, we can progress! We are also getting ready to start carving in the driveway. In the meantime, we wait for our current house to sell....until it does we will only do these initial steps and then wait.
No pictures to update but as soon as we break ground there will be some new ones!
To see the progress of the Price's home building as it unfolds,click on the highlighted update links below.
May 26 2011 update (page #2)