Price Photo Story Update May 26 2011
(page # 2)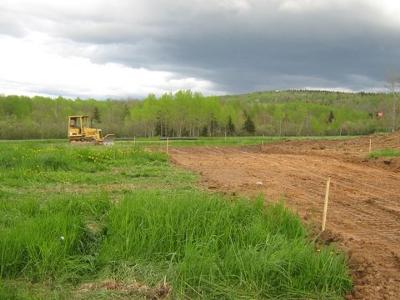 Breaking Ground
Well, we are underway. There was so much that we had to do just to prepare to build. Getting the building permit took some time, we needed to get computerized blueprints drafted and that was only after we got our soil tested for septic approval. We have established an account with a Building suppler where we will be buying our supplies. But the reason for why we have been delayed has been the weather!!!!!!!!! It has been wet for days so waiting for a window of opportunity to carve a driveway and prep the building site has been tricky. Thankfully we have been able to start! The ground is level, the footings are in and the concrete gets poured tomorrow. We also have a driveway. Because our driveway is off of an already existing road we didn't need to get a driveway permit, however thanks to my dad we had a culvert and a driveway over top of it. We also got our builders insurance which is reassuring to have. So, ducks are all in a row, and our house is being built! We will wait to install power, thankfully our contractor has a generator. I have some pictures to attach as well, things seem to be moving quickly so I should be updating the site more often and keep your fingers crossed that the rain goes away for good real soon!!!!!!!!!!!!


Go to the next update (page# 3)
Click here to read or post comments
Join in and write your own page! It's easy to do. How? Simply click here to return to Photo Story Page.