About Me And The Place
I Call Home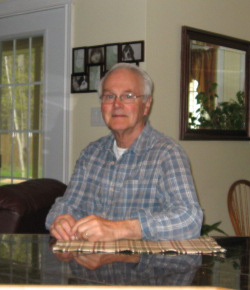 About me ...what can I say. The first thing I should tell you is my name. Those who know me call me Dan but my birth name is Daniel Whitman .
I am retired, my wife and I have raised four children, two girls and two boys, and we have four beautiful grand children, three girls and one boy.
I am a nature loving person, I love animals and have always had a horse or two around. My wife and I have a sheltie dog named Nickie....but don't tell him he's a dog.
I have a small woodworking / storage shed where I like to make things when the mood strikes me, and I love working out side around the yard.
We live in Nova Scotia, a place I have no desire to leave. A lot of people I know go south for the winter months but I love every season Nova Scotia has to offer. We live in a part of Nova Scotia called the Annapolis Valley which has very rich farm lands.
Fifteen minutes to the north puts us on the shores of the Bay of Fundy which is known for the worlds highest tides, and sixty minute drive south puts us on the South Shore of Nova Scotia, a coastline rich in nautical history.
A hour and thirty minutes west will find you in Yarmouth, and the west end of the province.
A equal distance east puts you in the capital city of Halifax a major container shipping port on the east coast.
Where is Nova Scotia you ask...it is located on the east coast of Canada. It is a peninsula jotting out into the Atlantic Ocean and one of Canada's maritime provinces.
If you would like to know more about where I live check this site out. Nova Scotia

Over the course of forty plus years my wife and I have built three homes while raising our four children, and oh yes thirty or so foster children. There was never a dull moment.
Without boring you with all the details about me, I started my working days in construction and then I worked for a lumber company as a lumber grader, service and retail sector for ten years,and twenty one years as a driver salesman for a bakery company.
After retiring from the bakery company I needed something to do so I took a job with a small grain storage center.
After working there for six years, I realized if I was going to build my retirement home.. I needed more free time, so I retired once more.
Well that's enough about me for now. I hope this gives you some insight to who I am and where I live.
If you would like to read about our retirement home building ventures click on this link. Our New Home




Return from About Me to Home Page