Are You Ready For That Home Building Experience?
The rewarding experience of home building has hit me three times.
My last home I built was to be my last, but guess what.. I still have that bug.(My wife walks around with a can of bug spray...not really.)
Seriously building your own home can be a very enjoyable and not to mention profitable experience, if you are equipped with the proper information and tools.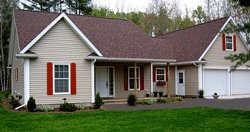 On this site,Building-A-Home-Info.com I will share with you the information and knowledge I have gained during my building experiences. What worked for me and what did not.
In one short year by selling my home and building a new one,I doubled the equity I had in my home .
When you look at it that way...that is not a bad return on your investment in one year.
At first you may think..."I couldn't do that"...but when you break it down into each step it's quite simple.Think of it as a puzzle,one piece at a time,and as you finish one step it all comes together piece by piece.
Don't get me wrong,building a home is a big undertaking but with the proper research and understanding...it is doable.
Before starting my project, I would get a pencil and paper and jot down each step, from the bottom to the top.
During this process if something was not quite clear to me I would research that area.
Armed with all the information and the tools I am ready to build my dream home...And so I did... and so can you.
The key to making your dream home come together smoothly with out the headaches is to plan...plan...plan each step carefully,and when you have a full understanding of each step then you are ready to build.
I hope Building-A-Home-Info.com will help you in your home building decisions.
Do you have a comment or suggestion? Please use our "contact us" page to express your opinions. Your comments or suggestion will help to make this a better site.
Please browse through the site and check out the free info.
and come back soon.



The intention of this blog is to keep you abreast of updates,changes,news, related to home building and new postings by viewers of Building-A-Home-Info.com
Building your own home can be very intimidating. What to do first? Where to start?...Relax,.. here is were you should start first ..
Cost of building a home is dependent on many factors. Here we will look at the factors that effect your home building costs.
The following is a list of building materials used to build a three bedroom bungalow. This list was part of a building suppliers quote... for building materials I used to build my home.
Building a home requires certain steps to be done in order. Here is a list of steps.
Heating systems all have their pros and cons. The one that's right for you will be based on four factors.
A look at styles, methods and types of roof framing that is best suited for you and your home.
When looking at truss construction for your home , some of the factors to be considered are span, pitch and style of roof. This in turn will determine the style of truss to be used.
If you are looking for windows and doors a few facts and tips will point you in the right direction.What to look for, where,styles and construction are a few of the topics covered.
Pr-hung doors require a little more time and work to install than windows but if you take your time the installation is quite easy. Pr- hung doors makes the installation a lot easier than it use to
There are a number of types of insulation being used to day but I am only going to mention the ones that I used in the construction of my home.
The most common types of roofing used to day, types and styles and methods of installing them.
A new house construction project that starts from selecting the lot to the finishing stages of the house.
This home building stories submission page is where you can tell your favourite home building story.
Photo story page is where you can display your photos of your home building venture,to be shared with others.
Income potential was not what I had in mind when I first thought of building a web site..but heck I am not knocking it.
About me, is a brief decription of the life and life style of Daniel Whitman.
Here you will find useful links that are related to building-a-home-info.com and will add to your home building pool of information.
This is the contact page for building-a-home-info.com
Building-A-Home-Info.com Sitemap page
Would you like to share your knowledge about home building? Great, find out how you can submit your story or tip here.