Price Photo Story Update July 12 2011
(page #3)
by Lori
(Middleton, NS)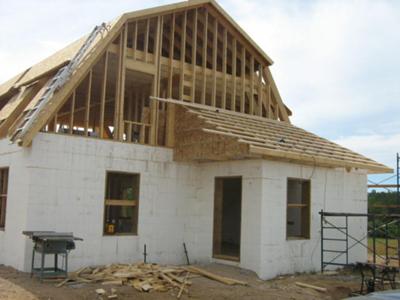 Side entrance
The house is progressing quickly and is starting to really take shape. Walls are up, roof is overhead and it looks like a house! Our walls are made of ICF insulated concrete forms and are as solid as a rock.


Hurricane clips have been used to attach the second level to the forms and right now the house is getting all boarded in. Shingling comes next as we work towards getting the house roof-tight. We are blown away by our Contractor and his help they are taking our drawing and truly creating our dream home. our Contractor provides us with suggestions along the way to improve the layout and I am really pleased to hear that we will be getting an Attic as well. Our house is a gambrel style so we have a little bit more space to work with.
Right now we are waiting for our house to sell so we are going a non traditional route, saving our funds for the most critical tasks. As soon as the house sells watch out! Power poles will be the first on the list because right now our contractor is using a generator. So keep your fingers crossed that the house will sell soon and we can keep going with the build. Enjoy the photos!
PS. Our Contractor designs and builds houses and we recommend him highly!!!!! His business is called WILL. DESIGN HOMES.
Go to the next update (page# 4)
Join in and write your own page! It's easy to do. How? Simply click here to return to Photo Story Page.